And next week, us hardy, intrepid explorers-of-fortune are going to drive on a non-paved road!!!
Bella Coola Highway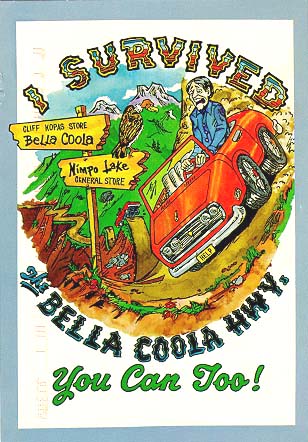 The "Bella Coola Highway"
Traversing nearly 300 miles of diverse geography, provides Canada's third outlet to the Pacific Ocean. Between Nimpo Lake and Bella Coola (a section laid out and built almost entirely by local residents) can be found the most spectacular scenery, including one 5,000-foot drop in elevation accomplished with twelve linear miles of road.
<--

| ^ Canada Index ^ |

-->
[Canada] [Singapore] [Other Lands] [Art & Culture]